Local Tarmac Contractors Near You
Tarmac which consists of fine stone aggregate mixed with bitumen makes an excellent durable solution for any driveway. Known for many years as tarmac, tarmacadam or asphalt.
If you are looking to get a new tarmac driveway laid, why not call the experts at Abel Driveways LTD for a free estimate. We use only the best of tarmacadam and asphalt products to ensure the finest of tarmac and asphalt driveway installations.
We provide a range of tarmac choices that include SMA tarmac, wearing courses, 6mm to 20mm tarmac and permeable tarmac. We have solutions that aims to cater for budget and requirements. Our contractors have over 30 years experience at laying tarmac on driveways and private roadways.
We provide our tarmac services throughout Surrey with tarmac contractors in Guildford, tarmac contractors in Woking and all the surrounding areas.
When it comes to laying your new tarmac driveway, we have a range of options depending on the size of the area. These options include machine laying the tarmac with a barber green or on smaller areas, we will lay the tarmac by hand but use preset level screeds to ensure an even finish.
Asphalt, SMA and Tarmacadam
We pride ourselves on the quality of our tarmac installations with each tarmac driveway built using high quality products. If you would like to know more, call our team so we can discuss our work directly with you.
From laying asphalt driveways, SMA driveways and tarmacadam, we ensure a high quality and durable finish on every single project.
Tarmac does not have to be plain or boring looking. It can be laid in a variety of styles such as red tarmac or black tarmac, with paved aprons to create an entry point or combined with other products to create custom features.
Some of the custom features available when we lay tarmac are brick borders around your driveway, drain systems to handle your surface water, double or tripled bordering styles and more.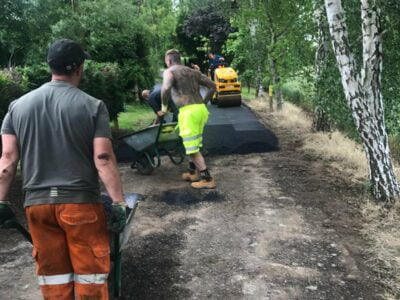 Tarmac driveways, the same as asphalt driveways, are laid to the exact specifications. No-one applies tarmac anymore, even though it's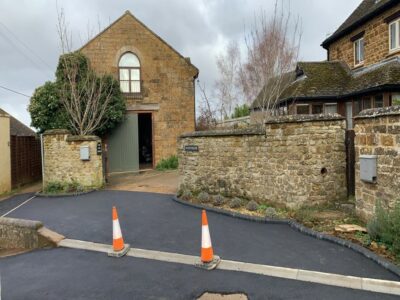 You might have often seen a tarmac driveway and wondered why many tarmac and asphalt driveways have a brick border
Would You Like A Quote?
Schedule a free quote today!
VIEW OUR PREVIOUS WORK
View our gallery work to see some of the work previously completed by Abel Driveways LTD
Abel Driveways LTD services a wide area throughout Surrey for laying tarmac, SMA and asphalt driveways. If you are not sure over our service area, why not call us so we can discuss it directly with you.
Our SMA tarmac and asphalt services include:
New Tarmac Driveways
Asphalt Driveways
SMA Tarmac
Wearing Courses
Tarmac Aprons
Tarmac Repairs
Driveway Resurfacing
Red Tarmac
We can provide you with multiple options for your driveway which will be tailored to you. This includes driveways that suffer from flooding, weak or unstable bases, affordable choices on resurfacing an existing driveway and more.
FREE QUOTE
We provide free quotations so we can discuss the work with you and provide you with a clear and detailed quote on the proposed driveway or patio installation.
CUSTOM DESIGN
We work with our customers to ensure each installation is tailored to suit them. This can range from design choices, curves, patterns and feature installations.
INSTALLATION
Once we begin installation, we stick to our detailed quote to ensure you are getting the work done exactly as you specified. If changes are made, it is done in tandem with you.